Favorite Track: Chasing Lonely




Boys Of Fall have released their latest EP, titled "Chasing Lonely." This is the band's first release since they went on a hiatus in 2016. I really enjoyed this band's music in the past, so I was excited to hear some new material from them. "No Good For Me" was one of the first songs that the band released since they returned from that two-year break, and what a comeback it was. This track is extremely catchy with a memorable vocal hook in the intro, some great instrumentation, and a chorus you'll want to sing along to from the moment you first hear the track. "Chasing Lonely" is a song that a lot of fans may not have expected from the band. It shows them going down a different route sound-wise with more pop and hip hop influences, especially during the verses and pre-chorus. The chorus on here is huge, filled with hard hitting instrumentation and even more catchy melodies. "Novocaine" is more of a ballad, with an absolutely incredible vocal performance and some great composition. The final two tracks are both acoustic versions of songs that the band have previously released. In "Under My Skin," the guitar parts show a lot more and, if I may add, they are really impressive. The vocals of "I Learned My Lesson" are incredible and the song brings some more great songwriting and melodies to the table, Both of these are very well performed and nicely done renditions of two of the band's older songs and really emphasize on how talented these guys are. Overall, I loved this EP. With its infectious melodies and impressive performances, this is hands down one of my favorite EPs of the entire year so far.
Powered by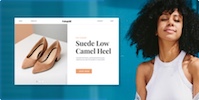 Create your own unique website with customizable templates.