Bristol To Memory have released a new single titled "Wrapped Up."

Right away, the song has a great hook in the intro that can instantly catch the listener's attention, as well as catchy instrumentation driving the upbeat song.

Something I loved about the vocals is how the singer shows a lot of passion and charisma in the performance, and it's even better during the chorus. The bridge of the song is a bit softer and is a great example of how great the dynamics are. The drums gradually come in and really build up the bridge before the guitar gets a chance to shine for a bit.

Overall, I really liked this track. I thought it was very catchy and the performances really stand out, keeping the listener interested.

---

LISTEN TO THE TRACK HERE:
Powered by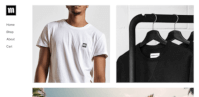 Create your own unique website with customizable templates.