BRIGADES TALK LATEST EP

"

It feels rejuvenating to finally be releasing new content again," Brigades vocalist Darren Young says about finally releasing some new music.

After all, it has been quite some time since fans have last heard from the band. Their previous release was 2015's "Indefinite," via Pure Noise Records. Since then, the band have almost started from scratch to release their latest EP, "True Blue."

"The writing process was a lot of things; fun, therapeutic, refreshing, experimental. In comparison to older releases...very different - new members, different producer, less stressful," Darren says about what it was like writing this EP compared to the band's previous work. Experimental and different are two words that sum up "True Blue" perfectly. While there are some moments that are reminiscent the band's pop punk, emo and post-hardcore roots, there's also plenty of experimentation and variation on this record, showing how the band have been trying new things this time around.

Darren cites Blackbear's "Digital Druglord," Coin's "How Will You Know If You Never Try," Armor For Sleep's "Smile For Them," Frank Carter & The Rattlesnakes' "Modern Ruin" and Queens Of The Stone Age's Villains" as some of the main releases that influenced this EP.

"IT REQUIRED A LOT OF DEVOTION FOR THIS COMEBACK RECORD TO HAPPEN."

"True Blue means devoted. It required a lot of devotion for this comeback record to happen," Darren explains regarding the themes and messages found across these six songs, "There are a lot of themes and messages on this EP. It's about love, lust, friendship, dedication, sorrow... I like when people make it their own, though, and relate on their own terms."

Opening track "Turmoil" was the first song the band had released for this EP, and the first song the band had released in nearly three years.

"We knew from the get-go that Turmoil was gonna be the first track," Darren says about the track, "It thumps from start to finish." We wanted the intro track to hit you right in the stomach as soon as you pressed play." With the release of "True Blue" comes a chance for Brigades to start over, not only promoting their recently released music to their longtime fans, but also gaining some new ones along the way.

"[We want to] just get back in touch with our old fans & friends as well as reaching out to a newer audience with our rebrand. We're gonna shoot another video and then start touring again." Fans may be wondering what's next for the Brigades following their newly released EP.

"Well, I guess they'll have to pay attention...won't they? [There's] a lot in store."

With "True Blue" out now and seemingly plenty more things to come, it seems like Brigades have a bright future ahead.

---

FOLLOW BRIGADES ON SOCIAL MEDIA:

LISTEN TO THEIR MUSIC HERE:
Powered by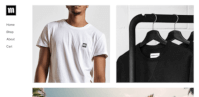 Create your own unique website with customizable templates.