Favorite Tracks: Revolutionary, Halo Me, Hustle Everything

Faulkner have released their debut record, "Pariahs." I had never heard of this band until I heard about this release, so I was curious about what they sounded like. One thing that this album did was surprise me. "Revolutionary" instantly feels like it would be a good opener, and it is. "Hot Streak" is another standout on here, with its catchy instrumentation, especially the bass part. "NY Anthem" was one track that I was iffy about at first, but it grew on me over time with its melodies that kept getting stuck in my head. "Halo Me" continues that, with what could arguably be one of the best and catchiest choruses on the entire record. The songwriting structure of this track is great, too. Each section builds up to the next and does so very well. "Street Axioms" starts to show some of the rock influences of the band's sound. The instrumentation on here especially is very interesting. The unique guitar tones fit well with the band's sound and the bass on here is really impressive. "Waters Are A Rising" has an interesting hook in the intro that comes back up during the post chorus. I love the drum parts that drive the track and the different vocal styles shown in that specific performance throughout it. "I'm Stoned" is another one of the more rock leaning tracks on here with the instrumentation (which is very impressive, I might add). "Keep Your Enemies Closer" seems to be a more pop leaning track at first, especially with the synths in the intro, but really mixes pop and rock very well. There's a pretty good chorus on here and the piano during the rapping section of this song fits well. "Hustle Everything" shows off the band's sound very well, showcasing both the pop and rock elements. The lyrics on here are really good and I think this is probably my favorite as far as lyrics go. I love the vocal style on this track and the final track, "Molly." The track mixes pop and rock once more as far as the instrumentation goes, but also adds in some piano that fits perfectly. Overall, I thought this record was pretty good. It grew on me more with repeated listens and I think this band has a really unique sound that I haven't quite heard before.
Powered by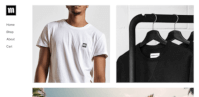 Create your own unique website with customizable templates.