Favorite Track: Monsters

Looking for a new singer-songwriter to listen to? Look no further than Mae Krell's debut EP "Anabasis." The word in that EP title means to ascent, and this EP tells stories of not only dealing with various different hardships, but also rising above them and moving forward. The lead single "Monsters" makes a fantastic opening track. The melodies on here are incredible, the guitar riff is going to get stuck in my head, and the song has a great chorus to it. "Skin" consists of mainly piano and soft drumming as far as the instrumentation goes. It's a haunting track with a very emotional vocal performance. I absolutely love the vocal harmonies on here and think they add more to the song. "Letters To The Hospital" is a song that honestly nearly had me in tears by the time it ended. To say that I loved the lyrics on this song is an understatement. Although all of the lyrics on here are very well-written, my favorite lines on the entire EP are in the chorus of this track: "It's okay if you cannot love yourself today and it's okay if you can't accept yourself right now. One day it'll all come together." "Scars" is an absolutely incredible closer with another one of my favorite vocal performances on the entire EP. Overall, I absolutely loved this EP. Each track tells its own story with its lyrics and when the EP was over, I immediately wanted to hear more.
Powered by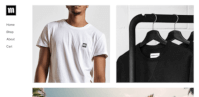 Create your own unique website with customizable templates.