How did the band form and how long did you know each other beforehand?

Liam:

Okay; this will be hard to keep brief, but I'll try my best! Dylan, Ariel and I all went to high school together. We used to play music and make films together all through high school and then towards the end of high school, we kind of drifted apart to do our own thing all while still remaining good friends. During this period I met Sale through his old high school band at a battle of the bands and we quickly became friends soon after. Sal, Dylan and I one night, met up at a rehearsal space purely just to party and jam a bunch of our favourite pop punk and emo songs (one of which was Whole by Basement, which we would later cover as Reside) and that's how Sale and Dylan met. In 2016, I found myself writing and demoing these song ideas that were inspired by this Basement/Citizen 'Alt rock' sound and so the idea was to kind of start this side project with Dylan, Sale and Ariel where we would just kind of get into a room together once a month to jam these song ideas and cover some of our favourite songs and it would just be a fun, not serious outlet for us. Then all of a sudden every two weeks we'd get asked to play friends' house parties and then proper shows and before we knew we had released of first song and just fell into being a more serious band.

You released your new single "In This Moment." What is the single about?

Liam: In This Moment is a song that I wrote about dealing with the fear of being left behind by relationships that were once so important. It has this sense of timeline where you're looking back on what you had and how you're tumbling down this rabbit hole which is the path you're now on and you have no control over it. I've had a lot of major changes happen to me in my life over the past year that has taught me a lot about myself and what I want to prioritise in my life. The core message behind this song and the music I've written for Reside this year is that no matter how bad things are, and no matter how hopeless things seem you will always make it through the other side with growth and a clearer perspective. You're still alive through all the shit that happens.

What was the writing process like for this track and how would you compare it to the writing process for your debut EP?

Liam: The process for In This Moment was similar to how we wrote material for Closing Doors in the sense that I came up with the music and lyrics and presented them to rest of the guys and we kind of tweaked little things over time until we were happy with it. That's kind of been a common way we have done things so far.

However, this time around I wanted to take more of a deliberate approach to the emotional weight this song has as opposed to last time where it was just a lot more free form and do whatever you feel like. I wanted to write something a bit slower that sounded a bit like the musical equivalent of having your feet held down while you struggle to keep walking.

That debut EP was released last year. How has it impacted your career so far?

Liam: I'm very proud of that EP. I feel like we've improved a bunch since then but I'm thankful for all the opportunities it's given us in kick starting our band. We've opened for some our favourite bands through the merit of our music and managed to connect with and build a following which is something I didn't think would happen from something that was originally meant to be just for us. Very keen for the future.

Are you working on on any more music? If so, how is it coming along and what can people expect from it?

Liam: I can't speak too much about it but I will say we have been working on more music and we're currently putting the finishing touches on our next as we speak. Very excited for you to hear what we've been locked away working on.

What can people expect from Reside in the future?




Liam: I think you can expect a lot of growth from our band. The music is certainly a lot more mature even if we still aren't haha. We're ever changing our live show to make it better and we're constantly making stupid videos to promote whatever we've got going on so I don't think that's gonna change any time soon.

---

follow reside on social media here:

LISTEN TO THEIR MUSIC HERE:
Powered by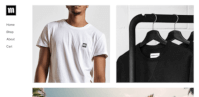 Create your own unique website with customizable templates.