Today, we are pleased to bring you the exclusive premiere of "Hey Kevin," the new single from electro-punk band Dirty Heretics.

This is a follow up to their

self-tilted debut EP,

which released in April of this year.

"While "Kevin" was inspired by a real person, He really represents working for The Man and loathing every minute of it," vocalist Rachel Gavaletz says about the single, "It's perhaps our most punk message ever, don't put up with anyone telling you how to wear your makeup, or put their words in your mouth. Own your freak, and don't give a shit if anyone else feels uncomfortable with it."

---

LISTEN TO THE TRACK HERE:

FOLLOW THEM ON SOCIAL MEDIA HERE:
Powered by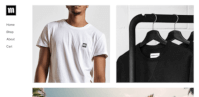 Create your own unique website with customizable templates.